Redesigned Common Chart of Accounts
The Chart of Accounts represents the structure through which financial transaction data is organized and reported. Implementation of a new financial system provided an opportune time to redesign and implement a new Chart of Accounts.
The goal of redesigning the Chart of Accounts was to help resolve many of the financial and management reporting challenges faced by UC San Diego today, and to align our Chart of Accounts with the new UC Common Chart of Accounts (CCoA), which went into effect in 2020.
Preparation 
The redesigned CoA was implemented as part of the new financial system, Oracle Financials Cloud (OFC). The approach for adopting the new CoA is iterative, in partnership with VC/Department SMEs, and phased implementation: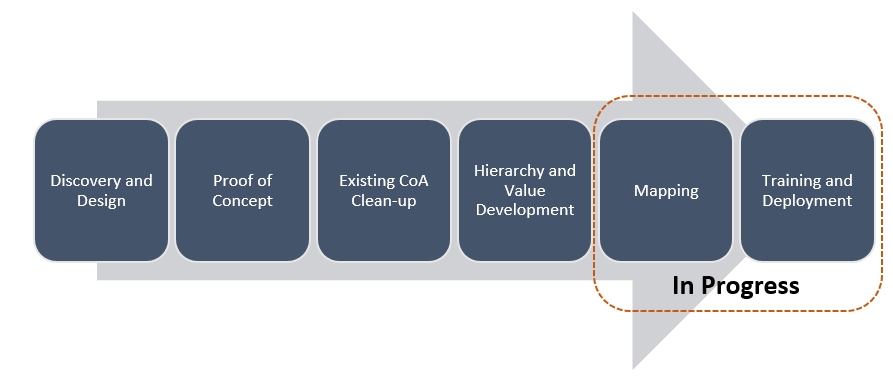 More Information
General Accounting (GA) staff worked with the UC Office of the President (UCOP) to finalize the new chart element hierarchies, including classification and numbering. All UC San Diego numbering will change to be consistent with the UC Common Chart of Accounts (CCOA).  
Download the CCOA Segment Values spreadsheets linked for each segment of the new common chart of accounts, which lists the values that will be available in the new Oracle financial system. 

Campus and Health
Segment Values
Definition
Field Length
Entity


An Entity is a subset of the University reporting unit that is either a separate legal entity, a separately funded state agency or is required to issue its own financial statements. Entity identifies the major operational unit within the UC system. 

5
numeric

Fund 



The Fund is the high-level classification of the source of funds for a transaction and tracks restrictions and designations.

5
alpha-numeric
Financial Unit 


Represents a Unit with an ongoing business objective, with a responsible individual with fiscal authority over budget and costs, an identifiable group of employees, and generally physical space. Every FinUnit must submit its own budget. Fin Unit will also be used for approvals, routing, and authorizations.
7
numeric
Account 



Asset, liability, revenue, expense, or fund balance.

6
numeric
Funct



Designates the NACUBO Higher Ed purpose of an expense. 

3
numeric

Program 

The Program segment is used to record revenue and expense transactions associated with a formalized set of on-going activities that are UCOP system-wide programs.  

3
alpha-numeric 

Project 
The Project Portfolio Management (PPM) module in Oracle tracks projects that are designated as sponsored, capital, lines of service or cost tracking. Each is auto-assigned a unique project number. Information related to project set up will be requested through the index mapping process.
7
alpha-numeric
Location 



Classifies transaction by physical location.

CAAN numbers will start with a "C".  Location titles will come from Tririga.


Locations with no CAAN number will start with "N".  Location titles should include name of location (or city) with street address.

Ships will start with "S".  Location titles will include the name of the ship.

6
alpha-numeric
Activity 

Classifies a transaction by activity where PPM is not appropriate, such as credit card merchant accounts. 

6
alpha-numeric
 
Foundation
Segment Values
Definition
Field Length
Financial Unit & Fund
Shared values, see Campus and Health above.


Account (rev.12/18/19)

The Fund is the high-level classification of the source of funds for a transaction and tracks restrictions and designations.

6 
numeric
Investment Pool 
(rev.12/18/19)

A segment to identify the various investment pools which a fund resides in.

2
alpha-numeric
Overview
Every active chart element in IFIS, including indexes, needed to be evaluated to determine whether the 'tracking or reporting need' the element is serving was needed in the new chart and new financial system, and how that element mapped to the new chart of accounts.
Mapping was complicated and not 1:1 in most cases because we were looking to streamline and consolidate our chart of accounts and make use of the functionality of the new chart design and new financial system. Each element, or segment, in the new chart of accounts, has a single use with a clear and consistent definition. For example, a revenue account only needs to indicate the type of revenue, not which department is generating it or from which location. The department code will indicate the department earning the revenue, and the location code can indicate at which location it is being earned.

As of June 2017, there were 125,584 active chart elements, including index codes, in IFIS. Many of these codes have not been used in years and have no balance associated with them. If a code is no longer needed or used, we should not map it, or create an associated code for it, in the new chart of accounts in the new financial system.

Our goal was to review and evaluate IFIS chart elements and inactivate chart elements with a zero balance that are no longer needed so that the code does not need to be considered when mapping to the new system.
If consolidation is possible and appropriate, a balance could be moved out of a chart element so that the unneeded element can then be inactivated. This effort helped speed mapping and ensuring that we only set up needed chart elements in the new financial system. Equate this to moving when you've lived in the same house for 30 years. You don't want to take everything with you and, when you get to the new house, you want to organize what you keep.

Inactivation does not equal deletion. The code and transaction record are still in IFIS, and, if needed, the code could be reactivated in IFIS.


Inactivation Criteria
A summary of activity and general criteria being used to determine which CoA to inactive is outlined below:
General Accounting is focusing their on-going clean-up efforts on CoA elements that are not associated with an OPAFS Fund by: Facilitating mass inactivation of CoA elements that have not been used in the past 5 years with no residual balances (budget, financial, encumbrance and overall total)


Creating journals to align balances of inactive indexes with an overall zero balance.  The purpose is to align balances by subaccount so the fiscal year end re-appropriation process will cease to impact these indexes.  The journals have a document prefix of BR and description of: "CCoA: Align Inactive Index Sub Accts". 


Reviewing active indexes that contain a Fund, Organization or Program that is inactive and coordinating mass inactivation of these indexes

Campus Budget Office performed a mass inactivation of indexes where the overall index balance is zero and are on core 'legacy' funds that are no longer used due to the shift to SOFI 99100.


Inactivation Efforts
General Accounting (GA) reviewed chart elements centrally, pushed reports (data pulls) to VC offices and asked departments to also review their funds, orgs, special accounts, program codes, indexes, and take action to inactivate codes no longer needed.
GA has centrally inactivated over 9,548 funds, orgs, accounts and program codes with zero balances. Departments have inactivated an additional 31,450 or 77% of all IFIS chart element inactivations.
 
2,741 reduction (17%) in # of active funds
2,488 reduction (38%) in # of active orgs
2,118 reduction (37%) in # of active accounts
5,048 reduction (93%) in # of active program codes
28,603 reduction (31%) in # of active indexes
Clean-up Instructions
To assist VC areas with clean-up efforts, General Accounting worked with Business Intelligence experts to turn CoA data pulls into real-time Cognos reports for chart element review. The reports assist central offices and departments in reviewing chart elements along with information such as the last time the element was used in the ledger and what active indexes are associated with the code. The goal was to zero out and inactivate chart elements that will not be needed in the new system. All inactivated chart elements (orgs, program, index, etc.) should have a zero budget, zero financial, and zero encumbrance amount. This helped greatly when it was time to map to the new system as we could ignore inactivated chart elements and only map the active.  


Download reports for your VC area. 
Review chart elements which have not been used in a number of periods and/or have small balances.
Inactivate null/zero balance elements or consolidate small balances to another org/program/index before inactivation.
For inactive indexes that have overall balances, use the index management tool to reactivate the index and then clear the index balance to zero by doing either a budget or financial entry, whichever is appropriate to move the balance to an active index. Once zeroed out, use the index management tool to inactivate the index again. We request that any subaccount balances be aligned and zeroed out before index inactivation. 
Learn more with Detailed Department Instructions (pdf document) 
To request inactivation of multiple chart elements at once see: Chart of Accounts and COA forms for Mass Inactivation
Please verify element status before sending an inactivation request. To validate chart element status go to FINLINK > Chart of Accounts > Chart Hierarchy List. 
Hierarchy and Value Development initiates the build out of CoA "roll up" and transactional values in the agreed upon CCOA segments. General Accounting recently completed building out the new hierarchies for each chart element in the new CCOA, which will go live with Oracle in July 2020.
Approach
General Accounting led the effort to build out the Fund, Account and Function hierarchies.  The Central Budget Office worked with VC offices to finalize Financial Unit hierarchies. Financial Unit codes are replacing org codes.
The functionality of an index is a 'Project' in Oracle, location, or activity code in the new chart and the creation of, and mapping of, these codes will be a VC, central office, and department effort.
In preparation for the new financial system, all UC San Diego departments were asked to complete index mapping to the new Common Chart of Accounts (CCOA), which will take effect when Oracle goes live in July 2020. Mapping indexes to the new chart string was a large and complex process that was divided into 3 phases. 
Phase 1- Index Categorization (Complete)
Phase 2- Index Mapping (In Progress)


Unmapped index numbers
Mapped index number cleanup
Mapped Index Tool (cognos reports in development to review mapped index/OFC crosswalk)

Phase 3- Legacy Chart Stabilization (Complete)
For index mapping, the project team provided the guidance and tools to translate old indexes to the new General Ledger and/or 'Projects' chart string. Subsequently, after analyzing VC area submissions, revised guidelines have been developed to further assist departments with additional index mapping and cleanup of the mapped index numbers.

Steps for Unmapped Index Numbers and Clean Up
Coordinate who will complete index mapping and cleanup for the department.
Watch the video instructions for completing index mapping.

Map unmapped index numbers created between July 1- October 31, 2019. Locate your spreadsheet here: Unmapped Index Files
Perform index mapping review/cleanup per the video guidelines. Locate your spreadsheet here: Phase 2 Review Index Files

Submit inquiries via the 'Comments' tab in the spreadsheet or the UCSD Service Portal. 

For service portal inquiries select: Business & Finance > Click 'Get Help' > Select 'Ask a question or get help' > 'General Accounting' > 'Common Chart of Account Inquiries/Mapping' > Subject 'Oracle Index Mapping and Cleanup,' and add a brief description. 

Complete department unmapped index numbers and cleanup by February 28, 2020.
Notify your Sponsorship Coalition Lead once complete!


Note: All financial infrastructure functions are centralized at UC San Diego Medical Center, Physicians Group, and Population Health Services Organization. For all project-related requests, including Index Mapping, the central accounting staff is responsible for reviewing and completing activities.
February 12, 2019

The Business & Financial Services (BFS) Division, in collaboration with the Campus Budget Office (CBO), was excited to announce that with the move to the new CCoA and financial system,  they transformed the financial organization and necessary accounting elements for self-supporting activities.
We want to take the opportunity to communicate the benefits of this change. The current state of creating multiple unique funds for each self-supporting activity will be replaced with a unique sub-department (i.e. Financial Unit), similar to the current practice of providing a unique organization.
The benefits of this change include:
Enhanced workflow routing for expense and billing approvals
Minimal impact on the majority of the current UCSD self-supporting activity operations
Significant reduction in the number of unique funds; currently we have 750+ funds dedicated only to self-supporting activities
Increased transparency in self-supporting operations; unique sub-departments slice through funds allowing us to capture the entire operation in one financial report
Reduction in accounting elements necessary for billing, revenue, and asset tracking
Operations deemed extraordinarily complex with various reporting requirements have been consulted, and BFS teams are working directly with these units to address any needs they may have as we move forward. If we have not reached out to you, or your organization, and you would like to schedule a meeting to discuss these changes, please do not hesitate to reach out to BFS-GA (Jamie Nickel and Lizette Ou) or BFS-FAO (Danielle Powers).
---
November 8, 2018
General Accounting and Student Financial Solutions identified over 5,000 A/R detail codes in ISIS that were associated with at least one inactive chart element (Fund/Org/Prog) and worked with ITS to expire those codes. Please also remember to clean up A/R detail codes!
Chart of Accounts Webinar

Chart of Accounts Redesign Series
Index Categorization & Mapping Series