Project Communications
This page is a repository of communications including updates, newsletter articles, change management resources and campus announcements created and delivered throughout the Financial Information System project. 
The following are available for download and presentation to your teams.                                             
Topic
Content
Posted
Downloads
Change Network
SME Recruitment, Chart Stabilization, and Kuali Updates.
11.12.19
Index Mapping

Watch the Q&A webinar for Index Mapping- deadline October 15, 2019.


9.27.19
Change Network
Index Mapping initiative- deadline October 15, 2019.
Learn more.
9.18.19
Change Network

New Travel and Expense & Procurement module launching July 2020.
Learn more.

9.18.19
Change Network
Change Network All-Staff: Oracle Design Decisions Presentation and Q&A
Watch the Recording 
Questions & Answers 
8.21.19
Index Mapping
Index Categorization initiative- deadline July 17, 2019.
6.27.19
Change Network
Collaboration Policy, Composite Benefit Rates, and Departmental Index Number Categorization 
6.6.19
Change Network
Engagement Tracking, Meeting Request Process, Phase 2 Update, and Department Participation
5.8.19
Staff Webinar
Watch the new Chart of Accounts Question and Answer Session
4.26.19
Staff Webinar
New UC San Diego 
Chart of Accounts Presentation
4.12.19
Change Network
Budget & Planning Update: Budget Theory- Design Questions "Parking Lot"


3.12.19
Change Network
Implementation partner, design teams, 90-day plan, UCPath, CoA cleanup and final drafts.
2.6.19
Town Hall
Future with Oracle, Preparing for Oracle, 90-Day Plan, ESR Change Resources, and Managing Change
1.29.19
Town Hall
Watch the Financial
System Town Hall 
1.29.19
Change Network
Kick-off Meeting
Change Network overview, sponsorship resources and updates, next steps and action items
1.4.19
---
Resource archives provide access to older, but still relevant, communications.
06/29/2018- FIS Overview
06/29/2018- Procurement Approach
06/29/2018- Common Chart of Accounts
06/29/2018- Organizational Change Management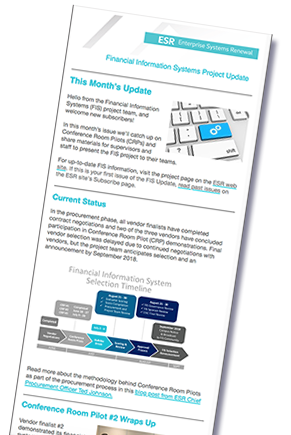 View past issues of the FIS Update newsletter below, then subscribe for monthly delivery to your inbox.
Past Issues