Digitizing Academic Reviews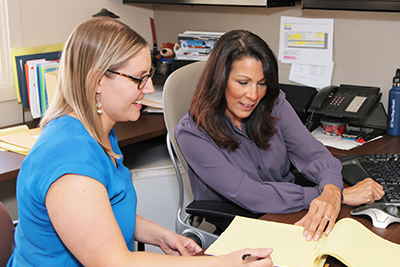 Jenna Lucius and Cindy Palmer work on APNext Interfolio.
UC San Diego is growing more rapidly than ever. No one would dispute that the campus is undergoing a radical and exciting transformation.
In order to support the expected growth of student enrollment in the coming years, now more than ever, we have to work smarter and more efficiently.
Supporting our academic appointees is central to reaching our campus goals, and is the main objective of Academic Personnel Services (APS).
Each year, thousands of personnel actions are processed on behalf of the more than 11,000 academic appointees at UC San Diego. These include everything from initial recruitment and hiring to eventual retirement and everything in between.
Almost all processes involve several layers of review, with APS serving as the central office to coordinate, advise and facilitate it all. A simple review file can be "touched" by more than 40 people (file preparers, peer reviewers, committees, etc.), with that number more than doubling for the complicated cases! Clearly, managing the academic review process at a large research university like ours is no small undertaking.   
Current State: Time Consuming, Limited Functionality
While our current academic review system, AP On-Line Review, allows electronic routing of academic review files, there remain several limitations and pain points.
The system was built for the simple actions, which means many types of faculty reviews cannot be accommodated. Additionally, not all areas of campus can use the system due to their unique structures and departmental processes. Overall, only 11% of our approximately 2,500 annual cases are currently processed in AP On-Line Review.
Because of the limitations, a number of departments still use paper-based procedures to create and route academic review files. This means that documents needed for an academic review file must be manually created. Unfortunately, faculty are therefore required to "remember" all of their activities and accomplishments for the two- to four- year period before a review!
Needless to say, file preparation takes a lot of time and manual effort. To top it off, the technology supporting AP On-Line is an outdated, rigid platform. For these reasons, it no longer makes sense to continue maintaining or developing AP On-Line Review.
Future State: Comprehensive Solution
Interfolio was selected for the new academic review system because it can help us eliminate these issues. Interfolio is flexible and in some ways can even be customized to fit a department or division's specific processes or preferences. The technology is of the highest caliber, and the workflow supports the full scope of any type of academic review or appointment.
Interfolio also provides a faculty activity collection system, Faculty180, that will facilitate the extraction of data from various campus and in some cases, third-party, databases such as PubMed, to create biobibs (UC San Diego's standardized CV format) and other useful CVs. We have several integrations planned in order to eliminate much of the manual work that goes into creating file materials, both from the faculty and staff perspective.   
Looking Ahead: Faculty-First Approach
Our project team has a great relationship with Interfolio and a shared commitment for "faculty first" higher education technology. We are excited to implement this digital solution over a phased period during the next few years, with full campus integration targeted for the 2019-2020 academic year and beyond. The academic review process at UC San Diego can be complicated to navigate, but the systems to support it shouldn't be!
Cindy Palmer is Assistant Vice Chancellor for Academic Personnel and change lead for the Academic Review ESR project. She can be contacted at (858) 534-3133 or c5palmer@ucsd.edu.
Jenna Lucius is Interfolio Trainer in the Office of the Vice Chancellor, Academic Afffairs and the ESR change practitioner and trainer. Contact Jenna at jlucius@ucsd.edu.
Learn more about the APNext Interfolio project.