ESR @ Process Palooza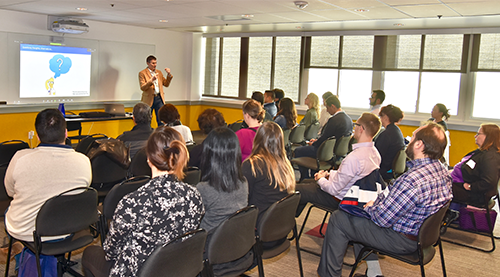 David Hutches presents "What Drives Your Desire for Data?" 
Enterprise Systems Renewal (ESR) is dedicated to streamlining how we work, so sponsoring a conference dedicated to process improvement is a natural fit.
Now in its second year, Process Palooza is an outgrowth of UC San Diego's strategic plan and a desire to develop a shared vision around solutions to major challenges across UC San Diego. 
In addition to sponsoring Process Palooza at the platinum level, ESR project representatives staffed event information booths and conducted workshops: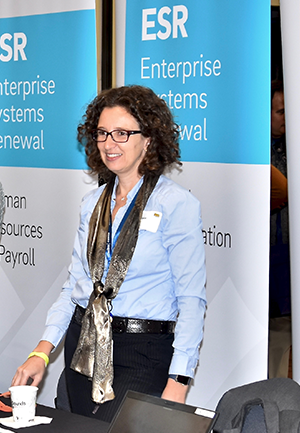 Nathalie Gholmieh, change lead
for the Integration Platfom project 
Kevin Chou, ESR program director, presented The Great LSS Race competition's awards address
Bernadette Han, ESR strategic organizational change management director, presented "Everything Through People"
ESR data architect David Hutches spoke on "What Drives Your Desire for Data?"
Shawn Munroand Prachi Raheja, Lean Bench managers, presented "An Organized Approach to Process Improvement," hosted a Lean Bench expo booth and information session and served as judges for The Great LSS Race.
Nicole Joyce, ESR Research Administration Systems change leader, served as an LSS expert for The Great LSS Race
ESR and UCPath project team members participated in expo booths
"It's always beneficial to be able to talk to people about the program, what we're doing and why it's important," said Nathalie Gholmieh, change lead for the Integration Platform as a Service (iPaaS) project, who staffed the ESR expo booth.
"There were some people who weren't familiar at all with ESR, so we provided an introduction. We also met attendees from other universities who were very interested in our efforts and our approach to ESR. Finally, I was able to answer specific questions about integrations – how our new systems will be able to talk to each other." 
Overall, Process Palooza was a sucessful event and a great experience for ESR and attendees.
Mark Hersberger is the manager of the UC San Diego IT Services Communications & Outreach team and Manager of Communications for the ESR program. Contact Mark at mhersberger@ucsd.edu or (858) 246-2619.