Kuali Research Begins to Train the Trainers
Preparing for the January 21, 2020 go-live date, the Kuali Research project team has began to Train-the-Trainers. We are excited to present Kuali Research to research administrators using this and other training opportunities. 
What is Train-the-Trainer?
A key principle of the ESR program is to use UC San Diego talent wherever possible. Training is no different. The train-the-trainer approach prepares select subject matter experts (SMEs) who have been selected by project governance to serve as Kuali Research trainers.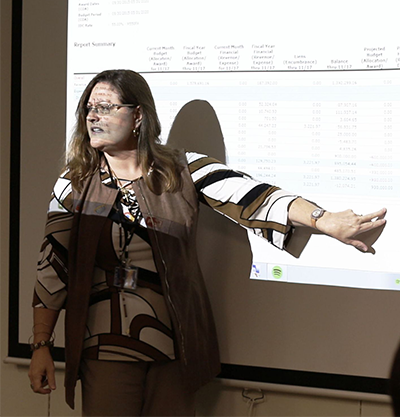 Once trained, the SMEs will have the knowledge they need to deliver training to others who will be using Kuali Research. This training method provides hands-on learning opportunities to help increase information retention.
Hands-on learning opportunities will be available before the Kuali Research system goes live through Learning Labs and Office Hours led by the trained SMEs across all areas of campus:
System labs will start in September and run through December.
Learning labs will be held across campus to help reduce the time commitment of traveling to a single location.
Super users, members of the Kuali Research project and client support teams, will have 40 hours of on-site training from Kuali, and department SMEs will receive 20 hours of training covering research administrator-relevant content surrounding the proposal development module.
Upcoming Kuali Research Training
The following training opportunities, including Train-the-Trainer, will be available for the January 21, 2020 Kuali go live and beyond. More training information will be coming soon.
Training Method

Audience

When Available

Train-the-Trainer

Select subject matter experts (SMEs) who have been chosen by governance to serve as trainers.

September 9 – 13, 2019

September 16 – 20, 2019

October 7 – 11, 2019

Learning Labs / Office Hours

Anyone wanting hands-on experience with the system. 

Led by SME trainers

September – December 2019

Virtual Instructor-Led/Webinars

Anyone seeking hands-on experience with the system from their desk

September – December 2019

WalkMe 
(In-System Digital Adoption Platform)

Anyone using Kuali Research who needs real time, step-by-step assistance

October – December 2019: pre-go-live training

January 2020 – Ongoing

Microlearning Library

Anyone can search a question and find quick answers. 
(Some content will be made available through WalkMe, ServiceNow, Blink and Kuali Zendesk.)

January 2020 – Ongoing

On-the-Job Coaching

Guidance from peers, supervisors and trainers. 
(UC San Diego uses a 70-20-10 model: 70% of training is expected to be on-the-job coaching, 20% from other people and 10% from structured courses)

January 2020 - Ongoing