Lean Bench Kicks Off Year 2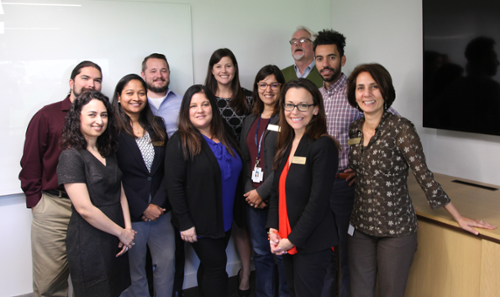 UC San Diego's team of Lean Six Sigma (LSS) experts is back for another year of process improvement on Enterprise Systems Renewal (ESR) projects.  
Lean Bench members work closely with subject matter experts to map out current state processes, analyze problems by measuring key data points, then identify opportunities for improvements. 
"We're excited to welcome in the new 2019 cohort," said Shawn Munro, a Lean Bench manager. "They're all very talented and bring diverse perspectives from across campus.
"We're also pleased to partner with the Office of Operational Strategic Initiatives (OSI) to use its talented team members as Lean Bench resources."
The 2019 cohort recently attended orientation and training sessions and is ready to go.  
"Continuous process improvement is key to continued efficiency in a resource-constrained environment," explains Manisha Kanodia, a new Lean Bench member. 
"Lean Bench provides tools for departments to analyze, implement and measure effectiveness of their practices, which enables them to be consistent with campus goals. I look forward to being part of the 2019 cohort to help extend Lean Bench's charter and thereby help bring in efficiency and consistency across university processes."  
The 2019 cohort will build on a busy first year of achievements, which included mapping out over 195 processes and evaluating more than 75 processes.  
For a deep dive into process improvement in action, read how Lean Bench worked with the Kuali Research team to streamline and combine four processes into one to reduce lag time for the sponsored research grant proposal process.   
Lean Bench Members 
Lean Bench Managers 
Shawn Munro, Sr. Business Process Analyst, Jacobs School of Engineering

 

Prachi Raheja, Continuous Improvement Lead, IT Services

 
2019 Cohort 
Valeria Estrada, Biorepository and Tissue Technology Shared Resource

 

Manisha 

Kanodia

, IT Services, Academic Technology

 

Adriana Long, Academic Resource Center - VCHS Central Services

 

Michael Salas, Housing Dining Hospitality

 

Ana 

Portlock

, Business & Financial Services, Integrated Procure to Pay Solutions (IPPS)

 

Harrison Watts, IT Services, Research Information Services
Office of Operational Strategic Initiatives (OSI) Partnership Team
Traci Carpenter, OSI partner

 

Lynette Essey, OSI partner

Kristin 

Kielich

, OSI partner

 

Stephen Larkin, OSI partner

Antonio Nava, OSI partner

Allorah

 

Pradenas

, OSI partner

 

Ricardo Santiago, OSI partner

Bradley 

Sollenberger

, OSI partner

 
Mark Hersberger is the manager of the UC San Diego IT Services Communications & Outreach team and Manager of Communications for the ESR program. Contact Mark at mhersberger@ucsd.edu or (858) 246-2619.