Lean Bench 2019 Recap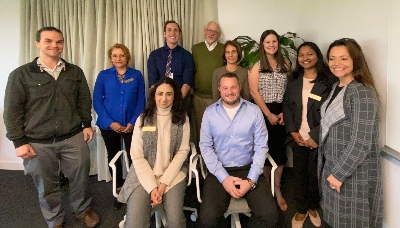 UC San Diego's Lean Bench, a team of Lean Six Sigma experts, has completed another successful year of bringing process improvement to Enterprise Systems Renewal (ESR). The group recently met to recognize accomplishments of its 2019 cohort and welcome new members for 2020.  
Over the past year, the Lean Bench continued work on the Research Administration and Financial Information System projects, and started work on the Student Information Systems project. Stay tuned for future ESR newsletters, which will feature details of Lean Bench contributions.     
For a sense of the overall impact of Lean Bench, think about geese flying together and creating a "V" formation. Each bird creates an uplift and the whole flock increases the flight efficiency by 71%. As a result, they reach their destination quickly and efficiently.  
Lean Bench manager Prachi Raheja ties it all together, saying, "When everyone in the organization is engaged in continuous improvement, they all create an 'uplift' by carrying out improvements around them no matter how small these improvements are! All these small changes add to a big positive impact on business performance.  
"Continuous Improvement is all about engaging and empowering employees to build a customer-focused, problem solving culture in an organization." 
Lean Bench 2020 Cohort 
James Ferris, Mathematics

 

Francys Jesson

, Alumni

 

Monica Estrada, Biorepository and Tissue Technology

 

Manisha Kanodia

, IT Services, Academic Technology

 

Adriana Long, Academic Resource Center - VCHS Central Services

 

Michael Salas, Housing Dining Hospitality

 

Ana Portlock

, BFS, Integrated Procure to Pay Solutions (IPPS)

 

Allorah Pradenas

, OSI Partner

 

Bradley Sollenberger

, OSI partner

 

Darcy Frailey

, OSI Partner

 

Antonio Nava, OSI Partner

 

Stephen Larkin, OSI Partner

 

Kristin Kielich

, OSI Partner

 
Mark Hersberger i
s Communications Manager for the ESR program. Contact Mark at 
mhersberger@ucsd.edu.