ProSAM Student Financial Aid Solution is Live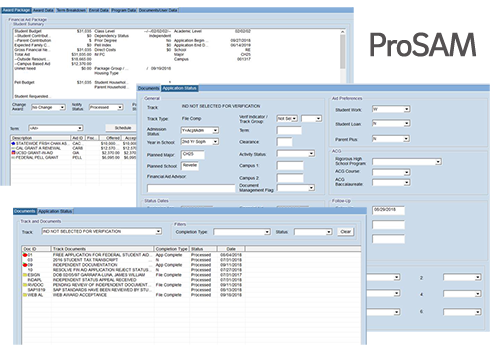 Since July 2018, UC San Diego has disbursed more than $145M in graduate and undergraduate financial aid using a new solution called ProSAM.
ProSAM replaces "classic" SAM, otherwise known as Student Aid Management, which has been in use at UC San Diego for 30 years or more.  
"SAM is the primary database for the financial aid process," explains Vonda Garcia, director of financial aid and scholarships in Enrollment Management. "It's at the heart of everything we do." 
All the key financial aid functions that SAM handled, from verification processes, awards and disbursements to eligibility reviews and more, will transition to ProSAM.  
The upgrade provides UC San Diego the latest in financial aid management technology. Esteban Marquez, associate director in the Financial Aid Office, says that ProSAM's ability to provide near instantaneous updates and information is critical. "With SAM there was always an overnight delay for data to update, but ProSAM can generate timely data on demand," he explains.  
This instant update feature is especially important in situations where a student's information suddenly changes, like added or dropped units or receiving more or less scholarship money.  
ProSAM's flexibility can also mean students receive their financial aid estimates much sooner than they do today, and can automate the summer revisions process, which is currently time-consuming and manual.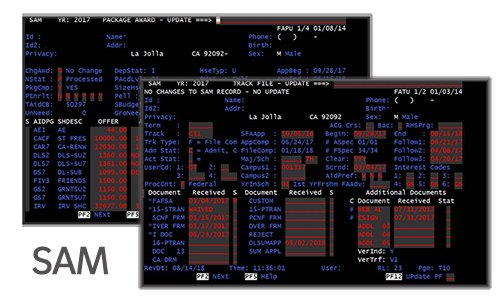 ProSAM will also be much easier to use. SAM was based on Disk Operating System, or DOS – black screens, hard-to-navigate fields and codes that aren't intuitive.
In ProSAM, users will enjoy a cleaner, more modern interface, and the terminology will make sense.  
The ProSAM roadmap includes progressive enhancements and more features to be added in subsequent years.
Overall, Garcia and her team look forward to a more efficient experience. "Our goal with ProSAM is to fully take advantage of automation to reduce manual and semi-manual processes," she says.   
The initial deployment of ProSAM has been a collaborative effort, with Garcia and Marquez appreciative of the support. "The staff working on this has been absolutely amazing," says Garcia. "I thank everyone for the time invested and dedication to pull this off."  
For questions or more information about ProSAM, contact Vonda Garcia at 
vgg001@ucsd.edu
.