New Student System to Ensure Accuracy, Provide Improved User Experience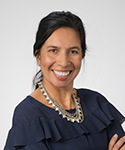 As University Registrar, I'm responsible for supporting the instructional mission of the university by providing core enrollment services to students, faculty, colleges and academic departments in the areas of academic records, class scheduling and registration. It's a job I take seriously, but also one that has become increasingly challenging due to outdated systems.  
With such a large stake in the accuracy of a core system of record, I'm delighted to serve as a Change Lead for the Student Information System (SIS) project, which is part of the campus Enterprise Systems Renewal (ESR) program. The SIS project will replace our outdated student systems with new, more flexible technology, improving business processes and practices, while allowing the collection and analysis of data to improve the student experience. 
Though the SIS project is still in its early stages, the results can't come soon enough!
Where We Are Today... 
The campus depends on the SIS to be a secure, centralized system for information about the UC San Diego student population, tracking student progress from matriculation through graduation. The SIS also contains course and class scheduling data, billing and financial transactions.     
This system of record is critical for the campus, as we need to ensure the accuracy and integrity of the student record when issuing a transcript. Potential employers and other higher education institutions rely on the accuracy of our transcripts. As the Registrar, my signature not only ensures the authenticity of the document but also validates that the student took classes, earned grades and earned the degree.
Our current system is more than 30 years old, and is written in an outdated programming language. It requires additional programming support due to over customization and age. This puts at risk our ability to perform core functions, and results in poor user experiences for students, faculty and staff. The system requires a ton of maintenance by IT Services that is time consuming and costly. There is very limited configuration that we can perform on our own. 
We've seen instances where the SIS is not at optimal performance, which impacts the student experience. We've all experienced these performance issues during peak enrollment periods. The system slows to a crawl, or just stops all together. 
Additionally, departments have created workarounds because the system doesn't give them functionality to manage enrollment with options that best serve their needs. So, we've had to build other systems, such as EASy, to support them.   
 ...and Where We're Going
In a new system, we're looking for a solution that provides flexibility, enables us to configure within the Office of the Registrar and limits the number of customizations so that we can grow with the institution. Workarounds should go away.  
I'd like to provide an improved enrollment experience for students. Imagine a shopping cart experience that allows students to select their desired schedule and the system consumes that schedule when their appointment time comes up. I'd like to offer a mobile experience that allows students to easily enroll and make changes to their schedules from their cell phones. 
This project is an opportunity for campus to make a critical leap forward. We're all invested in making the right decision and moving forward in the best interest of the university and our students. We need a system that provides accurate records and allows flexibility for a modern experience for students. It needs to serve multiple purposes, integrating with degree audits and other critical systems. 
Planning a Path Forward
We're in the early stages of this project. I'm looking forward to the shape it will take through the various phases. I'm most excited about the Conference Room Pilots later this fall when we actually get to see what these products can do. That's when we can say to companies, "Show us how you can help UC San Diego." 
I'm looking forward to making new contacts and relationships across campus as we research pain points. We've conducted many business process review sessions and I'm learning a lot about departments and their needs. 
In the ESR timeline, SIS is one of the later projects, and we benefit from the knowledge of those who've gone before us. Our office has already worked on implementing a new degree audit system, so we're familiar with large scale implementations. The whole approach of ESR is very different, but definitely the way to go. We're using the expert sourcing model, in which we leverage the talents and experience of UC San Diego personnel. No one knows our business better than we do. We're invested in it, we've got our own skin in the game, and it's huge for us to leverage expertise from stakeholders and subject matter experts. 
And to follow that up, our approach to organizational change management is invaluable. The importance of trust and buy in from our community cannot be overstated.    
Our plans have been impacted by COVID-19, including canceling the kickoff event we had planned for March. Although the event was cancelled, the project continues to move forward. Other work on campus has been affected, too, and we're trying to be mindful and compassionate for what people are going through. But we'll be back on track once campus is back on track.   
In conclusion, I remain focused on what's possible and what we'll be able to accomplish. There will be bumps in the road but as long as we remain flexible and support each other, we'll come out with a new Student Information System that can support and grow with the university.