New Admissions Solution Streamlines Process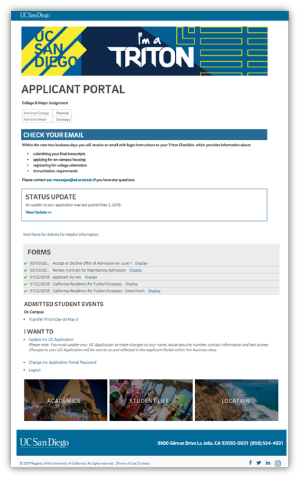 One of the first ESR projects to be implemented is a streamlined undergraduate admissions process using a solution called Slate. In the past, Enrollment Management used a mishmash of tools for the admissions process: one for applications, another for campus tours, another for communications…The systems were outdated, difficult to use and required manual updates.
With Slate, the process is modernized and consolidated. From initial contact through matriculation, Slate offers multiple modules for the lifecycle of a prospective student. Enrollment Management used Slate to create applications to handle an applicant portal, financial aid estimates and the Statement of Legal Residence (SLR) forms. As one example of the benefits: automating the SLR forms process reduced the residency determination workload by 40%!
Slate functionality was also used during the most recent admissions cycle. Applicants received communications and signed up for campus tours and special events through Slate. The solution was also used to announce admissions decisions and financial aid estimates to over 116,000 applicants.
"We are extremely proud to have launched several exciting tools within Slate including our new Applicant Portal," says Cindy Parra, Associate Director of Operations, Admissions. "The cost-savings, time management, and workflow efficiencies we have realized with the implementation of Slate have already achieved outstanding results. These benefits also impacted our customer service to students as we are able to engage with our applicants early on to complete critical action items to streamline the admissions process. We look forward to building upon our initial success as we continue to integrate workflow processes across Enrollment Management within Slate."
Mark Hersberger is the manager of UC San Diego IT Services Communications & Outreach team and Manager of Communications for the ESR program. Contact Mark at mhersberger@ucsd.edu or (858) 246-2619.