Social Login Successfully Launches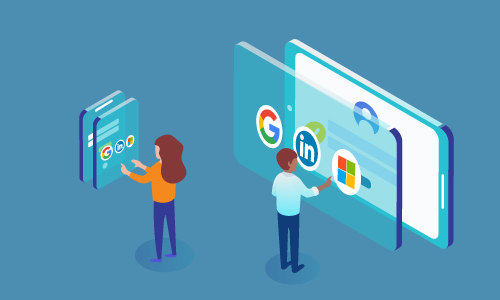 On May 20, 2020, UC San Diego brought alumni access to systems into the 21st century. As part of the ESR Enterprise Identity Management (EIM) project, Social Login officially launched, ushering a new era in identity and access management. This new, user-friendly offering– provided by Cirrus Identity– gives UC San Diego community members the ability to easily and securely access select university resources and services through their Google, Microsoft or LinkedIn account login information.  
"This is more than just bridging a gap for greater user access," said Chief Information Security Officer Michael Corn. "Social Login provides a means to further assure users are who they say they are. Improving the login experience for our campus community is as much about enhancing how we interface with our university systems as tightening up security and automating the verification process for these systems."  
Social Login's first use is with the alumni transcript and academic history request process in partnership with the Office of the Registrar. This offering now lets UC San Diego alumni use their Google, Microsoft or LinkedIn account login information to gain access to their transcripts and academic history, all on their own. This means that alumni no longer need to contact the Office of the Registrar to look up their Personal Identification/ Personal Access Code (PID/PAC) or have a UC San Diego login to access their files.  
"With 75 requests to retrieve login credentials typically coming in each week, Social Login takes the bulk of the workload off the shoulders of the staff, who must individually verify identities and fulfill these requests," said Senior Associate Registrar Dr. David Garrison. "Thanks to Social Login, these staff members are now free to focus their efforts elsewhere helping our community in other ways... And in the age of COVID-19, rethinking these processes allows us to leverage our staff to be its most effective and efficient."   
The Social Login service is in demand with more than 1,500 alumni logins within the first few weeks of service. It is now being evaluated to integrate with other UC San Diego services. 
"For the future, we are looking at implementing a new Student Information System, which, as far as technology projects go, is about as big as it gets, and we will bridge the new system with Social Login," David added. "It's extremely exciting to see how Social Login will be implemented in other systems."