A New Way to Manage Our Spaces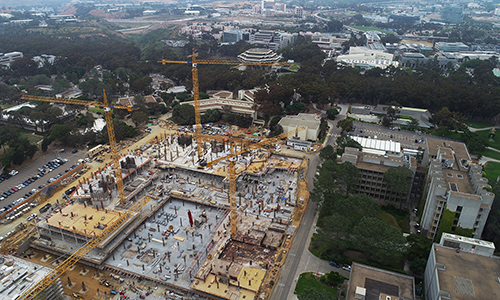 We are pleased to announce the recent launch of our new Facilities Information Management (FIM) Space Management solution to help us make smarter, data-informed decisions for our current and future space needs. 
Unprecedented Growth Supports the Need for Better Technology 
UC San Diego's footprint spans more than 800 facilities from the main La Jolla campus to locations worldwide. Guided by UC San Diego's first-ever Strategic Plan, the university is experiencing unprecedented growth. Chancellor Khosla has said, "The Strategic Plan made us rethink the number of colleges; how we build new institutes, academic infrastructure and student housing." 
UC San Diego's 2018 Long Range Development Plan projects a regular academic year headcount enrollment of 42,400 students by 2035 and calls for 30% growth within the next 15 to 20 years.  
"To accommodate the accompanying programmatic needs of academic, research, administrative and support operations, the campus must build additional facilities and optimize how we use space to improve experiences for faculty, students and staff. As we transition into new buildings, we need better tools to manage existing space more efficiently," said Vice Chancellor of Resource Management and Planning Gary Matthews.  
FIM Space: New System for a New Era  
In May, the campus launched the Facilities Information Management Space Management system (FIM Space), which promotes allocation efficiencies in administrative offices and research spaces while prioritizing safety. FIM Space will help us balance challenges and opportunities by supporting decision-making to maximize the use of current and future space resources.  
FIM Space provides analytical capabilities to support movement across Vice Chancellor areas while considering strategic campus space needs, long-range planning objectives and logistical effects of ongoing projects. Better space management translates into better campus resource management, which includes savings achieved through operational efficiencies.  
What's the overall impact of improved space planning? UC San Diego Campus Planning estimates that if we improve space management efficiency by 10%, we can avoid building approximately 1 million square feet of new space. 
The May 2019 FIM Space Management launch focused on creating a solid foundation to support the new data model within space management and related campus systems. FIM Space will improve space planning by standardizing processes, automating workflows, and providing detailed information to campus space managers and leadership, facilitating timely decision-making. 
According to IBM, we spend 87% of our days inside buildings. Improving our ability to plan and deliver spaces that promote optimal occupant experiences, while minimizing operational costs allows UC San Diego to create a dynamic environment where people want to be.