Student Information System Project in Full Swing
The Student Information System (SIS) project has launched!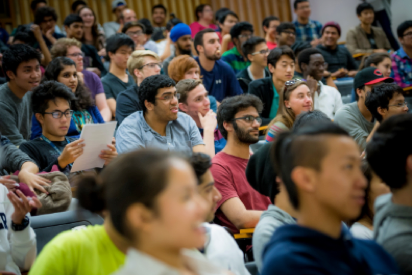 With SIS, UC San Diego will be replacing the current Integrated Student Information System, ISIS, in order to achieve modern efficiencies, streamline reporting needs and improve the student experience. 
"We are excited to kick off the Student Information System project!" says Kathleen D. Johnson, an SIS project Change Lead and Assistant Dean of Undergraduate Education in Academic Affairs. "We have a great team, which includes a network of subject matter experts, change champions, and change leads across UC San Diego. We are currently working to map and fully understand our current business processes to inform the request for proposal scheduled for February 2020."
In the spirit of ESR's "everything through people" approach, the SIS project will be a collective, campus-wide effort driven by UC San Diego personnel. This team is in place to ensure the campus community receives the information, leadership, guidance and training needed to help the campus community successfully navigate the coming changes.
The change team includes:
Cindy Lyons, SIS Change Lead (Central) and University Registrar, Enrollment Management
David Garrison, SIS Change Lead (Central) and Senior Associate Registrar, Enrollment Management
Kathleen D. Johnson, SIS Change Lead (Academic) and Assistant Dean of Undergraduate Education, Academic Affairs
Cindy Hsu, SIS Change Practitioner and Senior Academic Advisor, Muir College
A group of Change Champions is being assembled to help disseminate project information and support positive change among impacted units and teams. Subject matter experts will contribute through their knowledge of student processes.
You Can Get Involved Now!
Tell Us How You Use Student Data
The SIS team is collecting information that will help them understand how the campus community uses student data to inform requirements of a new student system. With colleagues in your unit, you can begin to create a Data Use Inventory to record current business processes and systems that use student data. The inventory information collected by November 23, 2019 will be evaluated for the request for proposal, but keep submitting inventories!  
Keep Up to Date
Stay on top of ESR and Student Information System project with a subscription to monthly news updates. Visit the SIS project site for more on the project and timeline. Information will be added as the project progresses.
Questions about the project or Data Use Inventory? Contact the team at esr-student@ucsd.edu.
Mark Hersberger

 

is the manager of the UC San Diego IT Services Communications & Outreach team and Communications Manager for the ESR program. Contact Mark at

 

mhersberger@ucsd.edu

 

or (858) 246-2619.