EIM Process Landscape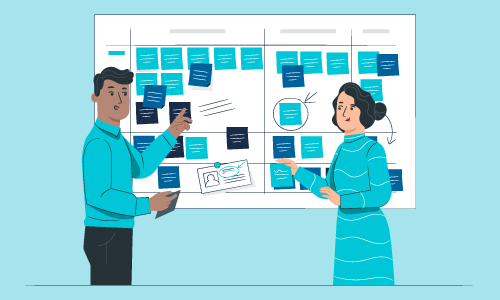 Knowing how to solve a problem doesn't begin with a solution; it actually begins with knowing what is and is not working, seeing how to improve upon it, and choosing the best solution based on that information.
For the Enterprise Identity Management (EIM) project, transforming how our university conducts Identity Management and Access Management begins with a process landscape.  
"It's really important for us to engage with the community to understand what they need from an enterprise system, especially an identity system that affects so many processes within our daily work lives," said Business Process Lead Kate Balderston. "Our focus is on a quality solution that will truly make a positive difference for the university community."
The Basics of a Process Landscape
A process landscape is a tool for communicating information about the processes that occur across a large business area to stakeholders in a visual, more easily digestible way. You can think about it like the table of contents of a large instruction manual, where a user can quickly navigate to the subject matter that they need to know more about. A process landscape is the foundation for process analysis and essentially answers the question, "What do we do?"
Just like the table of contents can vary from book to book, process landscapes can vary on their level of detail. The standard structure that has been adopted for ESR projects includes the following three levels:
Level 1: Function (a set of activities focused on achieving an outcome)

Level 2: Activity (a specific set of actions within the function)

Level 3: Tasks (the unique process that occur within the activity)
To illustrate this concept, let's look at the amazing work of another active ESR project– the Student Information Systems project.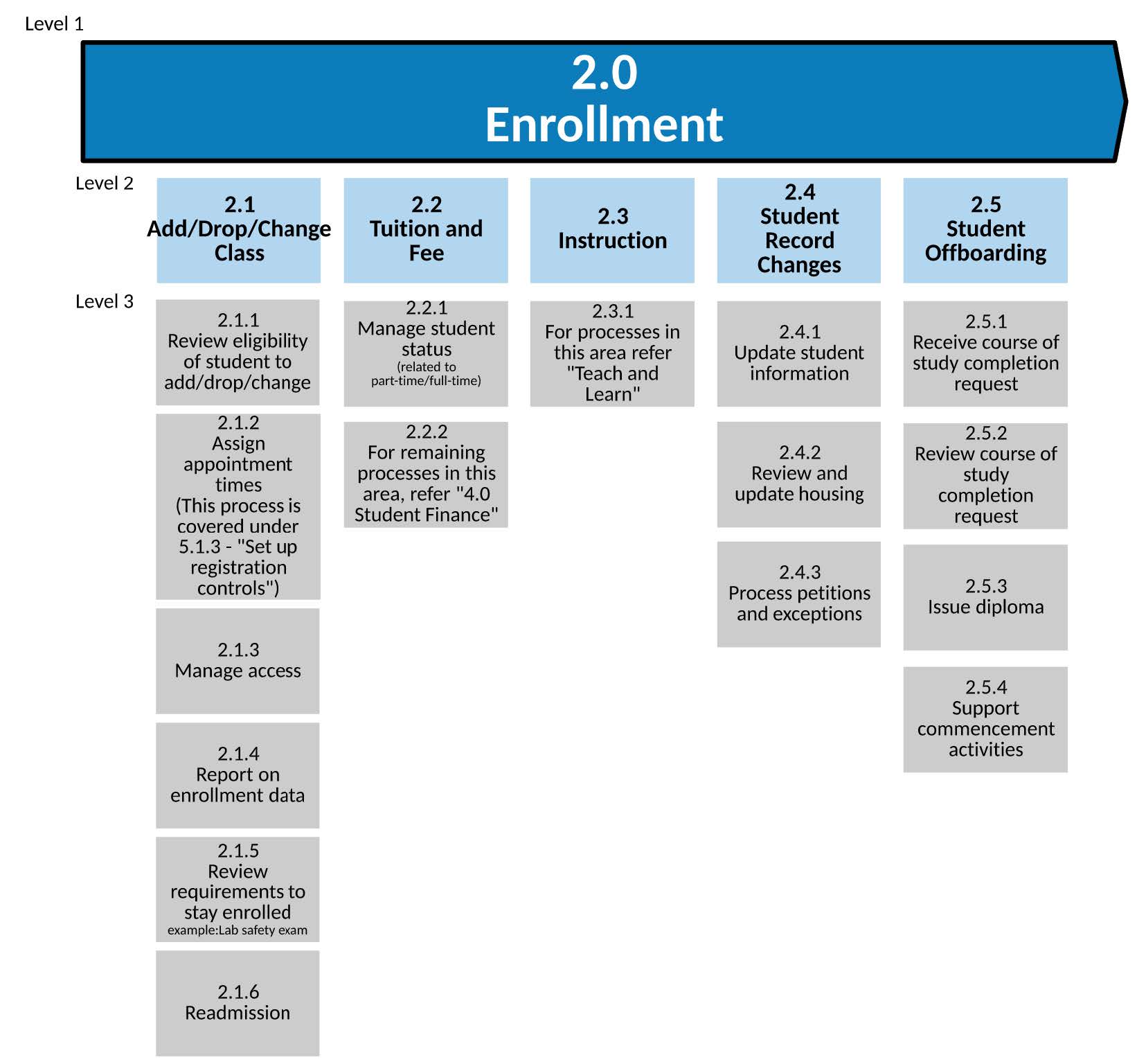 "Creating the SIS process landscape was the foundation for all of the work we have done since then to define scope, assess needs, and identify areas for incremental improvement," said SIS Business Process Lead, Katie Frehafer. "We use it every single day and I am so thankful to our subject matter experts and team for being amazing collaborators on this critical work. It's exciting to see the EIM project start their own process mapping journey and the landscape will set the stage for future success."
Our Goal 
The EIM Project will ultimately transform how our university conducts Identity Management and Access Management and Identity Governance. In order to ensure that the project will fulfill the needs of all users, it is critical to identify and better understand any business process that consumes or creates elements of identity.
By creating process landscapes, we can narrow down where these elements exist and how they are interconnected with other processes and workflows. By identifying alignment on those like processes, we can streamline efforts to tie current state with the future state of EIM.
It's important to note that a major project goal is to ensure day-to-day operations do not become encumbered by EIM's introduction. To that end, our EIM project team members will continue work with our Subject Matter Experts (SMEs) to obtain more detailed process maps, essentially uncovering all those processes related to identity.
Current Status 
The EIM Process Landscaping team has begun working with SMEs in functional area teams to develop (or update) the process landscape for UC San Diego. The project team has already started with an Information Technology & Management team, and are excited to move on to Human Resources, Academic Personnel, Research, Financial Management, Facilities Management and other organizational service teams soon.
Again, the diversity of perspectives at this time is critical to attaining a complete picture of identity at the university. If you are interested in serving on one of these functional teams, contact esr-eim@ucsd.edu.
In terms of broad numbers, the team estimates 8 to 12 weeks for each of the eight potential tracks for the process landscape. There are more than 70 departments/divisions represented with 257 potential SMEs/campus contacts identified amongst them. Each Vice-Chancellor area is assured representation, and each SME can expect to typically spend 4 hours per week with some work outside of each session. The total number of SME hours alone could amount to over 10,000 hours, a number Malcom Gladwell might appreciate as the project team looks to become experts in understanding how the university works with identity. 
"It's great to see the EIM team work so hard with the SMEs to get a comprehensive understanding of the EIM related processes overseen by the SMEs," said Jude Poole, SME from the Division of Biological Sciences. 
To hear more about the EIM project and get the latest updates, check out the March 16, 2022 TECHTalk featuring EIM Solutions Architect Mona Zarei.
Join the Conversation
The success of the project is dependent on the active participation of Subject Matter Experts (SME) from across campus to develop the process landscape surrounding EIM. 
If you are interested in engaging with the EIM project, SME opportunities are available for future business process landscape tracks in addition to openings for EIM Change Leads and Change Practitioners. Contact esr-eim@ucsd.edu today.