Social Login an Alumni Success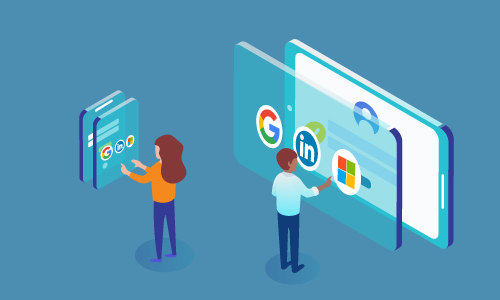 Part of the Enterprise Identity Management project, Social Login is a continuing success with UC San Diego community members.
Social Login helps users, namely alumni, easily and securely access select university resources and services using their Google, Microsoft or LinkedIn account login information. The service has created a more secure self-service user experience since its launch in July of this year, allowing alumni to easily access academic records such as transcripts and academic history, some years or even decades after graduation.
"Social Login has changed the game for how we manage alumni requests for transcripts and academic history," said Senior Associate Registrar Dr. David Garrison. "It transformed an unsecured process that had to be manually managed by our staff into something that consistently applies approved security protocols and is almost entirely self-service for the user."
Its popularity and value within the community are clear and its latest numbers are impressive. Even without heavy promotion, users have found and used what has proven to be a seamless experience. In the last three months, Social Login has assisted over 1,700 new users gain access to their records for more than 2,800 total transactions with no staff intervention.
What has this improved efficiency meant for the Office of the Registrar?
"In the current implementation for alumni we expect to save over 1,300 hours per year in labor, and that is huge in improving how we work and how we can better serve our community," said David. "We are proposing opening Social Login to current students, non-graduated former students and students in non-degree-seeking special programs, which would increase the labor savings."
In terms of future improvements to the service, David added, "Our biggest challenge has been users who forget how their name is listed on their university record. We are close to implementing an enhancement that will allow us to do the linking for them, once we verify their identity offline."
Find more information about the Social Login project.