Using Business Process Improvement to Better Support Our Research Enterprise
Last year UC San Diego received more than $1.2 billion in awarded research funding. This funding is supported by a trend of increasing applications submitted to our sponsors each year.
During the first quarter of FY19, the number of proposals submitted by UC San Diego researchers increased by 38% over the same period from FY18! During the last five years, proposal activity has increased 17% and awards have increased by 20%. While these increases are impressive, the administrative support resources that support this long-term increasing trend have remained relatively flat.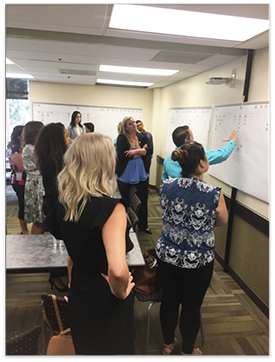 To effectively and efficiently support our dynamic research community with this increasing volume, UC San Diego, as one of the top research institutions in the country, needs to ensure that our business practices are equally dynamic.
We must continuously improve the way we conduct our business and become increasingly collaborative in terms of administrative processes that support research.
We must not simply rely on the practices and habits set in place over decades, but seek to modernize our approach, challenge the past norms and identify ways to work smarter so that we can operate more efficiently as our world-class institution continues to grow.
However, we also need to be vigilant in meeting our obligations to our sponsors and regulators through increasing focus on research compliance areas such as export control, conflict of interest, protections to patient information and data, to name a few examples.
Meeting the Challenge
To meet these challenges, a comprehensive approach to business process improvement for research administration is underway with the development of a new system, Kuali Research, part of the broader Enterprise Systems Renewal effort.
Kuali Research has been selected as our future contract and grant sponsored research enterprise system, replacing Coeus ePD and other modules that have been utilized to support contract and grant activity for the past 20 years.
Efforts have been underway since October 2017 to ensure that the Kuali Research system, when designed and configured, sheds historically inefficient and unnecessary business practices in order to streamline and improve the overall research administration pre- and post-award business process.
The goal is to better meet customer needs and relieve increasing demands on our research administrators, who currently use multiple disconnected processes and systems that leave them without the most optimal tools to effectively serve their principal investigators.
Improving the Way We Do Business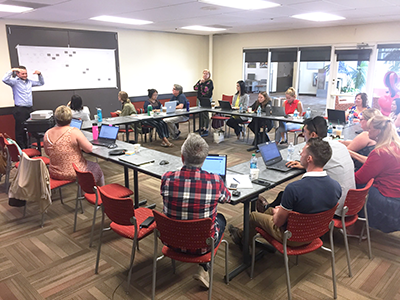 To achieve this goal, subject matter experts from numerous central and departmental offices have been engaged in process review and re-design efforts following Lean Six Sigma (LSS) methodology.
LSS techniques have successfully been applied in manufacturing and corporate efforts to reduce and eliminate waste and streamline process improvements in those markets.
UC San Diego subject matter experts, the Kuali Research project team and stakeholders responsible for overseeing the development of this new system participated in a one-day training on LSS methodology. They experienced firsthand the improvements that can be attained towards efficient business processes that will provide better value to the researchers we serve.
Additionally, in-house certified LSS black belts, or process improvement experts, are being tapped to lead full-scale process improvement efforts across many facets of our pre- and post-award research administration lifecycle.
Positive Change
All of this means changes are coming; positive changes to the way UC San Diego conducts research administration, including visibility and transparency of the entire pre-award lifecycle of proposal development, review and submission.
More Information
Read how the Lean Six Sigma Lean Bench worked with research process improvement, "Kuali Research Project Experiences Lean Bench in Action."
Find information about the Kuali Research project on ESR's Kuali Research website.
For additional information or questions about the ESR program or Kuali Research project, email the project team at esr-researchadmin@ucsd.edu or Nicole Joyce, Kuali Research change lead and practitioner, at njoyce@ucsd.edu.
Learn about Lean Six Sigma methodology and UC San Diego's Yellow Belt, Green Belt and Black Belt certification programs.
Linda Collins 
is assistant vice chancellor, Office of Contracts and Grants, and can be reached at lcollins@ucsd.edu or (858) 534-3333.