SIS Ecosystem
The Student Information System (SIS) Project aims to re-envision and improve the student experience at UC San Diego. The reality, however, is that one project alone, no matter how large or complex, cannot do this. The SIS Project team is responsible for overseeing the work of more than just the SIS Project; the team is also responsible for the oversight of other key projects with connections to the student-experience and existing student-related systems.
The SIS Project team is currently overseeing or contributing to more than ten distinct projects, all of which contribute in some way to the success of the SIS Project. This includes three main projects and work to prepare for and support those three projects. The responsibilities of the SIS Project team for each of these additional projects varies from full responsibility for project execution to oversight of change management activities to awareness of ongoing project progress. The SIS Project team refers to all of this work, collectively, as the "SIS Ecosystem."
The three main projects of the SIS Ecosystem are:
Choosing and implementing a new system to replace our current SIS

Choosing and implementing a curriculum management system

Implementing Oracle Student Financial Planning (SFP) to replace ProSAM, our current financial aid system
The four key areas where supporting work is currently taking place for the ecosystem are: 
Preparation work

Continuity planning

Lessons learned

Change management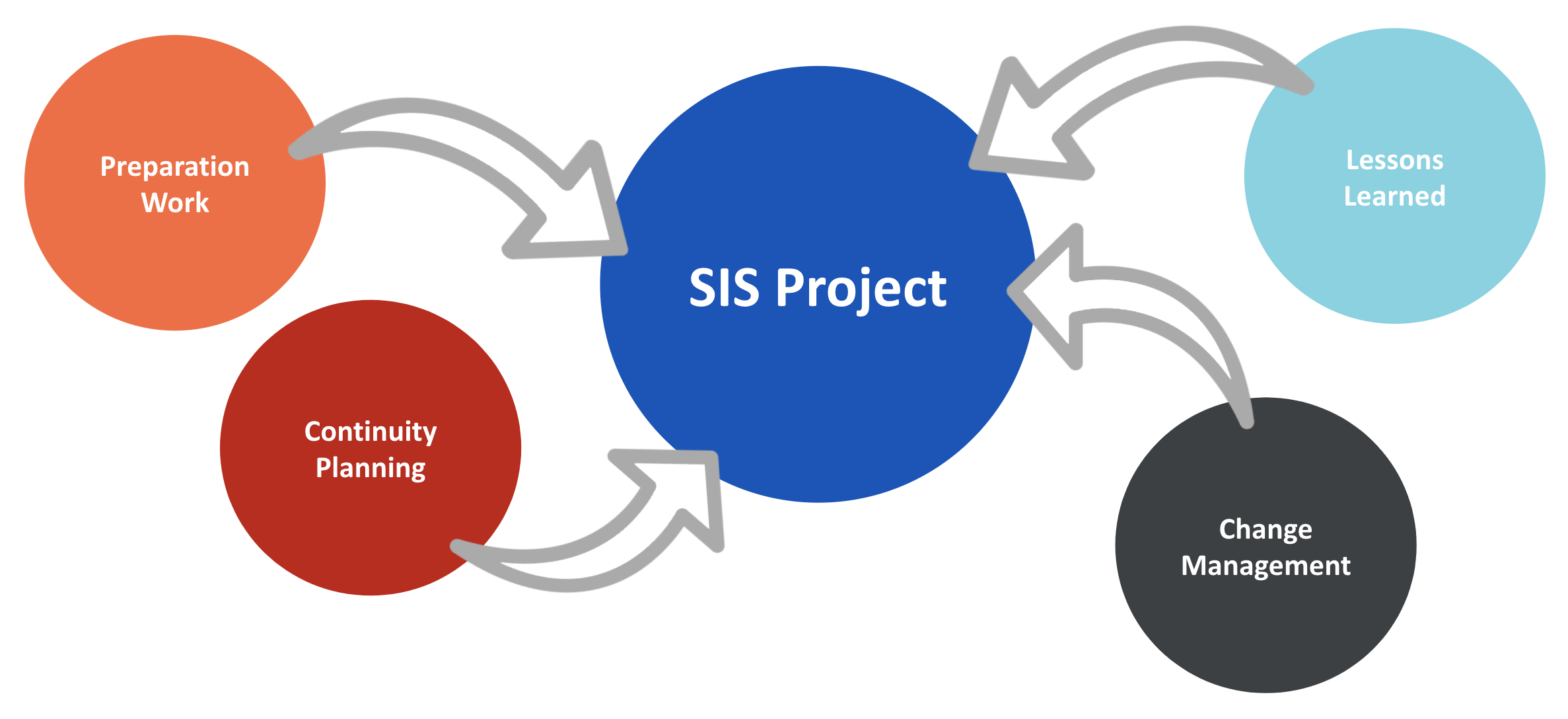 Active Work in the SIS Ecosystem
Below is a list of active work currently underway for the SIS Project, all of which contributes to the successful execution of the project. Click on the title of any item below to be taken to a page with more details about that work. Information about the Core Student Information System can be accessed in the menu on the upper-left side of this page.
Active SIS Ecosystem Work
Preparation Work
(prepare for change and limit change impact)
ESR SIS Project Work
(transformational change)

Continuity Planning
(support change and limit change impact)


Core Student Information System